I set off to Los Angeles, California with my best friend on one of our many adventures. Neither us are from particularly 'wealthy' families, both of us worked very hard to get ourselves to the sunshine state. We started off in Venice beach, and then moved on to Hollywood – and here is how we did it on a budget.
The home of Hollywood, beautiful beaches, palm trees, perfect weather and perfect bods, you can enjoy fun in the sun in this glitzy and glam city without a Kardashian salary.
Venice Beach
I'm a self-certified beach bum – I could sit on a beach all day and the views in LA are hard to beat. And the best thing is the beach is free. Who knew? I personally LOVE Venice Beach, we stayed in a quirky little hostel Samesun Venice Beach (picture below) just off the beach – home to the infamous Muscle Beach, quirky market stalls, crazy acts and the weird and wonderful. For the edgier of us the skate parks and Basketball courts are also free!Cost: Free!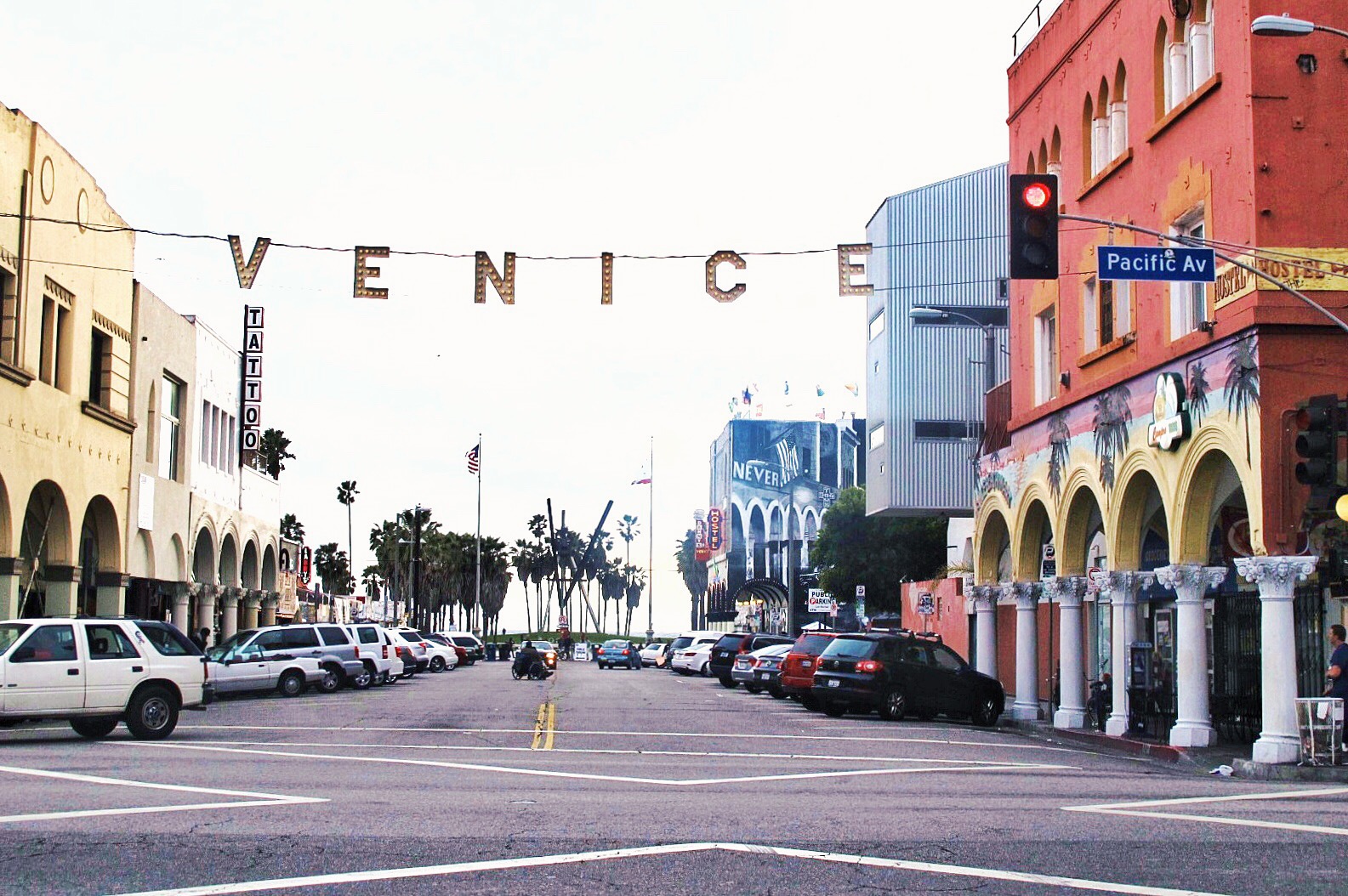 Santa Monica and ROUTE 66.
Santa Monica is like a dream come true, its sandy shores and beautiful people made it my favourite spot in LA.
If you take the local bus system, the main buses drop you off on Ocean Avenue which is a beautiful spot, full of cute little coffee shops – and a 5 minutes walk away from the beach itself.
There are plenty of fairground attractions at Pacific Park at the end of the pier with breathtaking views of the pacific ocean, including a Ferris wheel ride overlooking the ocean. The Pier also marks the end of the infamous Route 66, from Chicago to Cali, there are heaps of talented 'buskers' across the pier to keep you entertained and plenty of fun rides and attractions. I highly recommend renting a bike for the day so you can cycle between the two beaches in Santa Monica and spend the whole day lapping up the sunshine and sandy shores.
Cost: Free! (But will need to pay for rides and Ferris wheel) if you wish to use them).
3. Go on a famous hike at Runyon Canyon Park
East of the Santa Monica Mountains lies a huuuge park home to celebs and fitness babes galore, you've probably seen image's of your favorite celeb couples power walking around this park – that you may also get a chance to bump into on your hike! Its stunning and has the best views of LA whilst working on your Cali body!
Cost: Free!
4. Beverly hills, Rodeo Drive
On a budget you aren't going to be able to buy that new Louis V or Versace bag (cry) but you can certainly act the part. With the pavements laced with riches and celebs, its a real life dream for the shopaholics of us. Even grabbing a coffee at one of the (extremely fancy) restaurants like we did, or just window shopping to see the beautiful sights and people – its definitely worth the trip! Cost – free! (if you don't splurge!
City Tours – A day in LA
Okay its not the cheapest but I think it was one of my favourite days, chances are if you're budgeting you won't be spending weeks at a time in LA, and considering how HUGE the place is, its a great way to be shown around, drove around, and see the history of Hollywood. For around $79 (£54) In one full day we did pretty much everything – from a trip through Venice beach and Santa Monica to LA's most notable highlights including Griffith Park, Sunset Strip, the Hollywood Walk of Fame, Rodeo Drive, The Grove & Farmers' Market, The Hollywood sign and much more! The price also includes a free hotel pick up and drop off! It is honestly worth it, and its a great way to test out where you would like to return too!
Top Tip – the Hollywood sign is actually illegal to go too near too, but luckily enough for those of us on a budget, it is visible through most of LA.
Cost – £59
5. Hollywood Boulevard & The Hollywood walk of fame
Hollywood Boulevard – take a stroll down the Los Angeles cultural icon, with museums, landmarks and other attractions that celebrate L.A.'s famous film and entertainment industry. You can see the footprints,  stars and signatures of icons like Michael Jackson and Whitney Houston at the TCL Chinese Theatre (for free), see the dressed up 'stars' on the Hollywood Walk of Fame for free! Cost – free! (Taking pictures with them costs).
"The sky is the limit only for those who aren't afraid to fly!"
Cheap flights and other tips – It takes just over 11 hours from London to LAX – my best friend in the travelling world is skyscanner.com – if you do not know about this site then YOU NEED TOO, in fact I urge you too! It compares thousands of flights and airports to find the cheapest flight on the cheapest date, saving you money and time on researching (I once got a flight back from Cyprus for £39 on this site!)
STA travel are a great help – but not always the cheapest – although they are very friendly and happy to help especially if you are travelling on your own!
Also helpful sites: Trip advisor, Hotel Trivago and Hostel World also very helpful!
Accommodation
I stayed at the USA Hostels Hollywood and it's right off Hollywood Boulevard, with free breakfast and wifi and a happy, safe and friendly vibe i'd definitely recommend! I liked staying in the Hollywood area, visiting The Grove, Beverly hills and Rodeo Drive. they organise plenty of pub crawls and walking tours, so it's the perfect place to meet other people, it really is a fun and fab hostel!
GETTING AROUND LA – THE METRO – LOCAL BUS & UNDERGROUND SYSTEM
Admittedly navigating you're way around LA is a bit of a task, it really is a big place, and in order to make the most of your time there its best to do your research (like you are doing now with my blog, yay!)
Most places are easy(ish) and cheap to get too with the use of a TAP Card, which you can pick up at any Metro Underground station (think Oyster card – London, meets LA). The card works on the local bus system, and the underground railway system. You can use cash, but the TAP card is much cheaper. At $1.00 these cards are an LA must have, and most trips are $1.75. (Bargs!) This covers any transfers to other Metro Lines (if you need to switch lines to get to your destination) for 2 hours, allowing you to get to your destination as a one way trip.
Alternatively you can use Express buses for direct routes, You can also get great deals on 7/30 Day Passes too, so you can plan your journeys in advance within your budget!
(Top tip: use the The Metro trip planner)